Video games conquered the living room years ago; now, they're coming for the craft beer aisle. To commemorate this past summer's Warcraft feature film, the Chinese brewery Tsingtao released a collection of beers featuring some of the franchise's most iconic characters. A little less than a year ago, Black Hops Brewing unveiled Call of Duty: Black Hops III, a pale ale commemorating Activision's popular military shooter.
But Sound Brewery's Mortal Kombat X line is different. Unlike other video game-themed beers, Sound's Mortal Kombat brews are designed by an actual game developer.
"I used to homebrew as a hobby and make video games for a living," says Sound Brewery co-founder Mark Hood. "Now I sort of do the opposite. I brew for a living and play video games for a hobby."
Hood isn't just a hophead. He's a 22-year video game industry veteran who helped produce some of the most popular games of all time. Space Quest and Leisure Suit Larry? Hood programmed them. Or, y'know, Half-Life, the ground-breaking first-person shooter and one of the greatest games of all time? Hood published it as Sierra Entertainment's senior vice president.
Early on, Hood made a shareware title called Cosmic Dodger, but didn't consider game development a full-time job until Sierra called in 1987. "I was working in Sweden with Chalmers University doing computer language development," Hood says. "Sierra had just developed this language in-house called SEI that was an object-oriented language for developing the adventure games." Sierra needed a programming language expert, and Hood seemed like a good fit.
For 14 years, Hood worked alongside legendary game designers Roberta and Ken Williams, developing adventure titles like King's Quest, Space Quest, and Phantasmagoria. He left Sierra in 2000, right after mass media conglomerate Vivendi bought the company.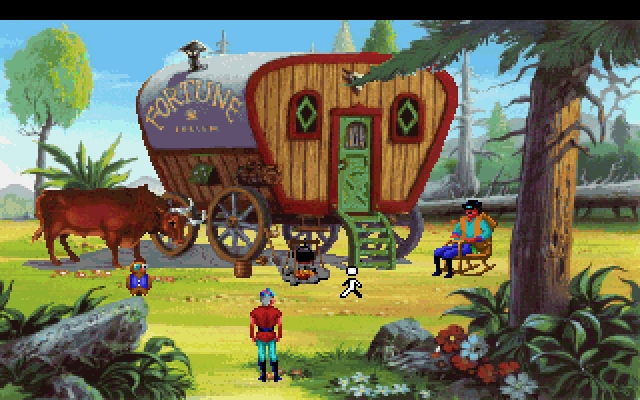 "It really was a frustration with going from a model where we got to swing for the fences," Hood says, "to having a whole bunch of people who were coming in from L'Oreal and Proctor & Gamble and wanting us to do something that was just like something else that was successful before that." Before the buyout, Sierra focused on the quality of its games. After the Vivendi purchase, Hood says, "It was all about what the sales potential is based on our in-depth marketing analysis of what the demographics were and all this bullshit."
In 2007, Hood founded Reality Gap, one of the first game companies to build on microtransactions as a major economic model. In 2010, Hood and his partner, Brad Ginn, purchased an old brewing space and started Sound.
But Hood didn't forget what he learned while working in game publishing, and his time at Sierra informs how he approaches the brewing business. Like Sierra, Sound puts a premium on quality. "We're not shooting for the middle of the bell-shaped curve," Hood says. "Ken [Williams] used to tell me that if you had one hit out of three, you're doing really good, so always try to do something new and creative and different and crazy and fun." Accordingly, Sound's line-up doesn't have a "flagship" brew, and sports a constantly rotating taplist.
There are some standbys, of course. "At Sierra, we used to have our Evergreens. We used to have Hoyle's Classic Card Games. I knew what that thing would sell every single month, every year," Hood explains. "[At Sound,] we try to have some card games." Double IPAs like Sound's Humulo Nimbus might sell really well, but Hood's wary of being pigeonholed. "We think of it a little bit differently. We think of those as ways to fund our other beers that we always wanted to do."
Sound recently upgraded from brewing about 1,500 barrels a year to a facility capable of about ten times that, complete with a special mash-filtration system—the only one in Washington State—that allows Sound's brewers to make quick, experimental beers with ease. A mere six years after opening, Sound ships to Japan, Canada, and all over the western United States.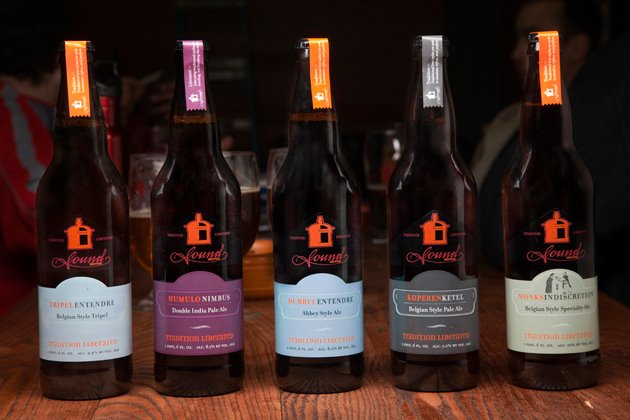 Like game development, beer brewing is an iterative process; both game designers and brewers test their products during development, refining things until they're just right. At Sound, Hood will send experimental kegs out to certain local breweries to see what customers think, then incorporate any feedback into the next batch. Some of Sound's most popular beers—the American pale ale Kanacitra, for example—took four separate iterations before the brewery nailed the recipe.
It's not all fun and games, of course. "One of the reasons that made me frustrated about the game industry was that it was becoming more about the marketing than it was about the games," Hood says, "and I really honestly think that it's happening in the beer industry too. If you don't have something to grab [customers'] attention off the shelf… they're not gonna grab your beer, even if it's the best one."
It was Sound's distributor, which knew about Hood's gaming background, that approached Hood about the Mortal Kombat license. Initially, Hood was skeptical. "But then I thought, y'know, its two things that I really love, we're gonna make great beers, so what's wrong with working with Warner Bros.?" Hood says. "Get a license and sell a lot of it and let it fund a lot of other things that we do."
Warner Bros. gave Hood some fairly strict guidelines. They were looking for three beers based on the Mortal Kombat characters Sub-Zero, Scorpion, and Raiden. One needed to be a double IPA, which is a style that's very popular with beer drinkers. All three needed to clock in at around 8% ABV, in order to hit a market-friendly $8 price point.
Hood decided to pair Sub-Zero with the IPA—"I could've done a pilsner, and that would've been awesome, but that's not a $7.99 bottle," Hood says—because of IPAs' cool, refreshing flavor, and adapted a previous Sound beer, an imperial stout made with vanilla beans and chili peppers, to provide Scorpion's "sting." That left Raiden. Originally, Hood and his team tried making a beer Asian plums (a subtle nod to Raiden's conical Chinese hat), but found that the making the beer wasn't practical and that the result didn't taste great. Sound settled on an imperial saison instead.
In case you're wondering, the Mortal Kombat beers are really good—Everygeek's lab rats especially enjoyed Scorpion Imperial Stout, which wasn't nearly as aggressive as most other chili-based beers. They've proved to be quite popular with fans, too. A week after Sound's Mortal Kombat line hit the newswire, Sound's Facebook page amassed over 150,000 hits. "It's been crazy," Hood says.
Hood still plays video games, although it's more of a special occasion than an everyday occurrence. "What I do now, the next Call of Duty comes out and I spend a weekend with people sliding pizza under the door, and in three days I'm done with it." With Sound's rapid growth, there's just not enough time for gaming.
That's fine by Hood. After all, all those beers aren't going to brew themselves.
Beer Drinking Games Featured Mortal Kombat Mortal Kombat X Video Games