Zana, Wally Fresh, and More! $10 Worth of ComiXology Submit
Every week, I randomly buy about $10 worth of comics from ComiXology Submit, ComiXology's wonderful self-publishing platform. This is what I think of 'em.
ComiXology Submit is a great way for independent comic creators to get their books out to a wide audience, and it's an excellent place for readers to find titles that are fresh and different, while still maintaining a certain level of quality. Don't take my word for it; check it out for yourself!
---
This Week's Haul:
Zana #1 ($4.99) — OUR BOOK OF THE WEEK!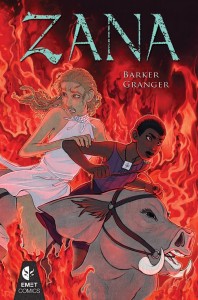 Writer: Jean Barker
Artist: Joey Granger
Letterer: Tom Orzechowski
Genre: Alternate History
It's Kind of Like: The Hunger Games, except this dystopian future totally could have happened.
The Premise: Apartheid never ended, and South Africa is split along racial lines. Black Tribals serve at the whim of the White Royals, and one girl—Zana—is caught in the middle. Zana's background (half-black, half-white) makes her a social pariah and the target of a government-mandated population purge, and things only get worse on her 16th birthday, when her coming-of-age ceremony goes terribly awry.
100-Word Review: If you ever wondered how much a good colorist adds to a comic, check out Zana. Granger's excellent colors go beyond Zana's skin tone, which conveys Zana's mixed heritage so well that no further explanation is necessary (although it's given anyway). It's the lush green planes when everything's going well. It's the dull greys in Zana's oppressive classroom. It's the violent red and orange at Zana's birthday ceremony, where everything falls apart. Meanwhile, Barker creates a dystopian setting that's chilling because it feels so real. This could've been us, if things had been just a little different, and that's scary.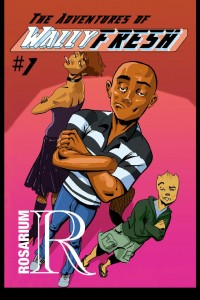 Writer and Artist: Turner Lange
Genre: Comedy
It's Kind of Like: Jay and Silent Bob Strike Back (At Internet Dating)
The Premise: Wally has a date with a real-life girl! She's cute, she's charming, she's into cuddling. Basically, she's Wally's perfect match! That's why Wally's drugged-out roommates (one of whom is a beaver, I guess?) have to save him.
100-Word Review: There's something about Lange's art that's a little wonky. It's way too detailed in some places, yet has almost no detail in others. Sometimes, the perspective or proportions look off. Yet, given Wally Fresh's drugged out, semi-psychedelic storyline, it actually kind of works. The bigger problem with Wally Fresh is its characters' paranoia about online dating. That hasn't been a real concern since, like, 2005, and makes Wally Fresh feel dated. Still, it's hard to dislike any comic that includes the line, "My bum bum went bang bang," so, y'know.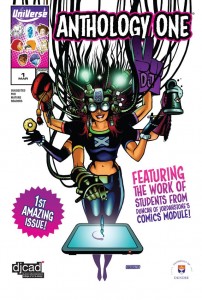 Editor: Phillip Vaughan
Genre: Anthology
It's Kind of Like: An anthology. Surprise!
The Premise: The best work from Duncan of Jordanstone College of Art and Desgin's Comic Art and Graphic Novels Module, as of 2012. The module ran one day a week for 12 weeks. As such, there's a little bit of everything here. One story is about a lonely robot who embarks on a life of crime. Another's a mob comedy. There's a 4th-wall-breaking chase scene in an insane asylum, a parable about a shut-in who's haunted by ghosts, and a brief Little Red Riding Hood riff. That's what's fun about this kind of thing; you never know what you're going to get.
100-Word Review: This is student work. That doesn't necessarily mean that everything is rough, but most of the work could use a little tightening. Thankfully, every piece is at least competent (and some, like Claire Roe's Subject Nine, soar beyond that). To a process junkie like me, the production sketches where just as interesting as the main content. Only two major complaints: some comics feel more like teases than actual stories, and DJACD needs to devote more time to teaching lettering, which is the weakest part of every single entry.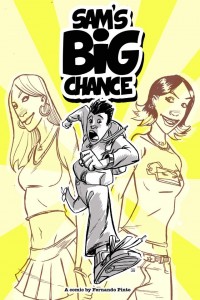 Writer and Artist: Fernando Pinto
Genre: Teen Comedy
It's Kind of Like: Can't Hardly Wait got punched in the balls and stuffed into a locker.
The Premise: The girl of Sam's dreams doesn't really know his name, but that's not going to stop him. See, Sam has a plan. He's going to show up at her birthday party with the best, most thoughtful gift ever, thereby winning her heart. All he has to do is stalk her on social media, spend months' worth of paychecks, and avoid the police. What could go wrong?
100-Word Review: Fernardo Pinto's a pro—as in, he gets paid to draw comics for money full-time—so it's not surprising that the artwork here is lively, detailed, and spectacularly funny. Pinto's writing skill is less of a given, but it turns out he's pretty good there, too. The best day of Sam's life unfolds with action, humor, suspense, and more than a little drama.
Just be warned: despite the fluffy teen-comedy trappings, Sam's Big Chance is pretty cynical. Just wait until the ending hits. Ouch.
How I Choose What to Review:
I've got $10 to spend. That's it. Most of the time, I'll try to split that money between different titles, so if your book costs $9.99, it's going to have to be pretty darn special to get my money.
I try to stick to #1 or one-shot issues. You might be telling the greatest story ever, but I don't want to start in the middle.
Unless the hook is amazing, I don't buy superhero books. Don't get me wrong, I love superheroes. I read 'em all the time, and that's the problem. DC and Marvel already meet all my superhero needs. When I come to ComiXology Submit, I'm looking for something different.
I take recommendations, although I don't always follow them. You think I might like your book? Hit me up.