Past the Last Mountain, Deluge, and Timothy the Tortured One: $10 Worth of ComiXology Submit
Every week, I randomly buy about $10 worth of comics from ComiXology Submit, ComiXology's wonderful self-publishing platform. This is what I think of 'em.
ComiXology Submit is a great way for independent comic creators to get their books out to a wide audience, and it's an excellent place for readers to find titles that are fresh and different, while still maintaining a certain level of quality. Don't take my word for it; check it out for yourself!
---
This Week's Haul:
Past the Last Mountain #1 ($3.99) – OUR BOOK OF THE WEEK!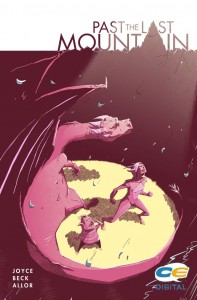 Writer & Letterer: Paul Allor
Artist: Louie Joyce
Genre: Fantasy-Action
It's Kind of Like: The Lion, the Witch, the Wardrobe, and the Fugitive.
The Premise: Fifty years after a war between humans and monsters, a dragon, a faun, and a young troll break out of prison, and it's up to the new head of the Westfield Penal Preserve to catch 'em.
100-Word Review: Past the Last Mountain isn't as wacky as it sounds, and it's all the better for it. Thanks in large part to Joyce's exaggerated designs, the characters on both sides of the law are compelling and instantly memorable. Allor effortlessly weaves world-building into the issue's generous action, and heartfelt character beats. For a first issue, Past the Last Mountain is absolutely packed with twists and turns, yet Past the Last Mountain still gives individual moments the time they need to breathe. Excellent comic, and can't wait to read more.
Deluge #1 ($3.99)
Writer: J.D. Oliva
Artist: Richard P. Clark
Genre: Crime
It's Kind of Like: The Wire, but wetter.
The Premise: During Hurricane Katrina, a band of homicidal police officers patrol New Orelans in a rowboat, executing the city's "criminal element"—i.e. black people.
100-Word Review: There's a fascinating idea here—an in-depth look at New Orleans' deep-seated criminal underworld, and how Katrina derailed the plans of criminals and cops alike. I'm just not sure this was the way to execute it. Deluge's police "hero" is a cipher; the only thing we know about her is that she respects her partner. Problem is, he's a racist lunatic. That doesn't speak so well of Pat (whose name we don't even learn until page 18). Unfortunately, without anything to latch onto emotionally, it's hard to take Deluge seriously; given that police violence during Katrina was an actual thing, that makes Deluge an uncomfortable read.
Timothy the Tortured One ($0.99)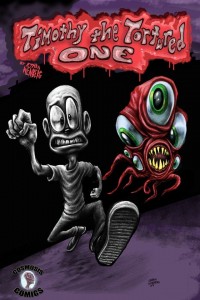 Writer & Artist: Ethan Wenberg
Genre: Comedy
It's Kind of Like: Robert Crumb and Harvey Kurtzman had a lovechild and named him Ethan Wenberg.
The Premise: Just when fast-food slinger Timothy thinks that his life can't get any worse, he's lured into Hell. Free beer and strippers? Always too good to be true.
100-Word Review: Wenberg's manic, crazy cartooning—kind of like Disney's 1930's animated shorts filtered through classic MAD Magazine—isn't enough to sustain Timothy the Tortured One for a whole book. It's a problem of story: simply, there isn't really one. Timothy doesn't deserve any of the terrible things that happen to him, and that makes Timothy the Tortured One hard to laugh at. Still, the pictures are nice to look at, and a dollar is a fair price for 17 pages of pretty art.
How I Choose What to Review:
I've got $10 to spend. That's it. Most of the time, I'll try to split that money between different titles, so if your book costs $9.99, it's going to have to be pretty darn special to get my money.
I try to stick to #1 or one-shot issues. You might be telling the greatest story ever, but I don't want to start in the middle.
Unless the hook is amazing, I don't buy superhero books. Don't get me wrong, I love superheroes. I read 'em all the time, and that's the problem. DC and Marvel already meet all my superhero needs. When I come to ComiXology Submit, I'm looking for something different.
I take recommendations, although I don't always follow them. You think I might like your book? Hit me up.