Ellie Moonbeard and Faded Memories: $10 Worth of ComiXology Submit
Every week, I randomly buy about $10 worth of comics from ComiXology Submit, ComiXology's wonderful self-publishing platform. This is what I think of 'em.
ComiXology Submit is a great way for independent comic creators to get their books out to a wide audience, and it's an excellent place for readers to find titles that are fresh and different, while still maintaining a certain level of quality. Don't take my word for it; check it out for yourself!
---
This Week's Haul: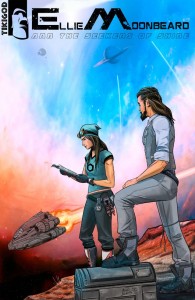 Writer: Joseph Bradford
Artist: Nicolas Daniel Selma
Genre: Sci-fi
It's Kind of Like: Star Wars meets Goonies. At least, that's what it says on the tin.
The Premise: Ellie Moonbeard's mom is intergalactic superstar Sara Starshine. Her dad is Captain Moonbeard, commander of the spaceship the Lovely Lady, the only home that Ellie's ever known. With help from the rest of the Lady's crew, Ellie and her father hunt treasure—or "shine"—on distant planets, until the contents of an ancient Kleptari temple upend everything.
100-Word Review: The best thing about Ellie Moonbeard is Ellie herself: smart, extraordinarily capable, and yet very much a 13-year-old girl. The worst thing about Ellie Moonbeard is its pace. Volume one collects three issues, and yet it feels like the story's just beginning. Sure, there's plenty of action—thrilling dogfights, funny banter, and crisp, clear art assures that you won't be bored—but Ellie Moonbeard's big hook (what is in that temple?) arrives a little late. Ellie's journey doesn't really start until the book's final panels; it's a good thing that getting there is so much fun.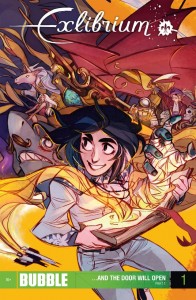 Writer: Natalia Devova
Artist: Ozich
Colorists: Margarita Kablukova, Tatyana Yakubets
Letterers: hosino.hikaru, Sviatoslav Kaverin, Irina Smolina
Genre: Action-fantasy
It's Kind of Like: Buffy the Vampire Slayer, with a dash of Walter Mitty.
The Premise: Lilia Romanova loves science fiction, comic books, and video games—and not so much other people. After humiliating herself on her first day of college, a strange green something bites Lilia, drawing her into an epic supernatural battle that's right out of her pop-culture-fueled fantasies.
100-Word Review: I'm not sure what happened in this comic. The ComiXology description says that Exilibrium is about "an order of sorcerers to guard the border between the real world and the world of fiction," which is a great premise, but none of that's explained in the book itself. Lilia's a charming protagonist—I love her geeky fantasy "escapes"— but Exilibrium has too much mystery, and not enough answers. Confusing writing doesn't help; I'm guessing that English isn't Devova's first language. Cliffhangers are fine, but I need something concrete to latch on to, and Exilibrium doesn't provide it.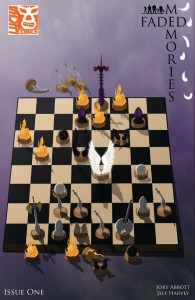 Writer: Jory Abbot
Artist: Jeffrey Harvey
Genre: Fantasy
It's Kind of Like: The prequel sequence in The Fellowship of the Ring.
The Premise: Long ago, the Blade Dancers fought the dark wizards called the Shepherds, with a technology-focused race called the Tin Adule caught somewhere in the middle. As the two sides' biggest, bloodiest rages on, the Shepherds summon a monstrous demon, turning the tide of battle—until the Blade Dancers get help from an incredibly unlikely ally.
100-Word Review: This is a prologue to something much bigger. Faded Memories does a lot of world-building, but it's not clear why; I read it twice, and yet I've got no idea what issue #2 is going to be like. Faded Memories' story is told mostly via text, which reads like a Tolkien-esque history, and gives the story a dull, passive distance. Emphasizing visual storytelling would make Faded Memories a lot more exciting, but it's not clear that Harvey's up to the task—not yet, anyway. Some distinct characters to root for would be nice, too.
How I Choose What to Review:
I've got $10 to spend. That's it. Most of the time, I'll try to split that money between different titles, so if your book costs $9.99, it's going to have to be pretty darn special to get my money.
I try to stick to #1 or one-shot issues. You might be telling the greatest story ever, but I don't want to start in the middle.
Unless the hook is amazing, I don't buy superhero books. Don't get me wrong, I love superheroes. I read 'em all the time, and that's the problem. DC and Marvel already meet all my superhero needs. When I come to ComiXology Submit, I'm looking for something different.
I take recommendations, although I don't always follow them. You think I might like your book? Hit me up.