Duck and VS: $10 Worth of ComiXology Submit
Every week, I randomly buy about $10 worth of comics from ComiXology Submit, ComiXology's wonderful self-publishing platform. This is what I think of 'em.
ComiXology Submit is a great way for independent comic creators to get their books out to a wide audience, and it's an excellent place for readers to find titles that are fresh and different, while still maintaining a certain level of quality. Don't take my word for it; check it out for yourself!
---
This Week's Haul:
Duck ($6.99) — OUR CO-BOOK OF THE WEEK!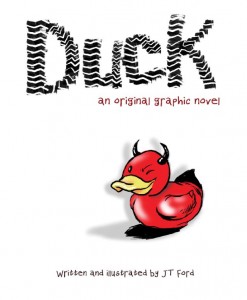 Writer & Artist: Tana Ford
Genre: Road Trip
It's Kind of Like: An LGBTQ-friendly Planes, Trains & Automobiles
The Premise: Against her better instincts, Cat's roped into a cross-country road trip when her best friend, Duck, calls at 5:30 in the morning. The problem: Duck's brother Luke is in a (New) Mexican prison, and it's up to Duck and Cat to bail him out.
100-Word Review: There's no big hook, and no huge twists with this one. Duck is just the story of two lesbian friends cruising across the country. The characters are both compelling and (intentionally) irritating—reading the book is almost like being stuck in the car with them. Ford's "acting" is a highlight. A lot of the women in the comic look similar, but they're easy to tell apart, thanks unique facial expressions and specific body language. The drama might be downplayed, but it's genuine; Duck won't hit you ever the head with emotion, but it's affecting all the same.
VS #1 & #2 ($3.99) — OUR CO-BOOK OF THE WEEK!
Writer & Artist: Alex Ryan
Genre: Comedy
It's Kind of Like: Spy vs. Spy, without the subtle political undertones.
The Premise: Who wins when two ordinary objects fight?
100-Word Review: At first it looks like VS is just a series of short comics pitting objects against each other—a funny, but singular joke. Keep reading. As the collection progresses, VS' battles start to veer towards the unexpected and surreal directions. Different opponents (an experiment-obsessed alien, for example, preternaturally cheerful Twinkie) recur, too, building a Simpsons-like roster of interesting, versatile characters. VS is comedy at its best: it establishes a formula, then uses your expectations against you, building on what came before to deliver surprise after surprise. Serious? No way—but fun? Yes way!